As a community-owned cooperative, Bluff Country Co-op has a unique governance model. The Co-op is governed by a Board of Directors, comprised of nine Co-op owners who play a critical role in ensuring the continued success and health of the Co-op. These Directors are individuals who have an interest in serving the Co-op and are elected by the general membership of the Co-op at the Co-op's Annual Meeting in the fall. 
The Board of Directors guides the Co‐op by establishing the vision and ensuring the long-term vitality of the Co‐op. We ensure the store operates within our value system while empowering staff to manage day‐to‐day operations of the store. The Board seeks input from its owners and reports regularly back to the owners. We encourage any owner to attend any of our monthly meetings to get a better sense of how the Board works or to bring feedback directly to the Board. Meetings are held in the Community Room at the Co-op at 6:00pm on the second Monday of the month.
Board members attend monthly meetings and participate in committee work to help guide the Co-op and advance the Co-op's Ends. Retreats, workshops, and other professional development opportunities help Board members to enhance their leadership skills and guide long range planning.
The Board meets monthly on the second Monday of the month, and attendance is expected by all Board members. Typically, a Board member might expect to devote 4‐5 hours each month on Board work. We are a professional, working board and are compensated with a small monthly stipend in store credit.
What is the mission of our Co‐op?
We are driven by our Ends to provide high quality, sustainably produced, regionally grown food and products to the Winona area. We create a sense of community and inspire our shoppers to build a sustainable local society. In practical terms, that means we offer a great variety of natural, organic and local products, from fresh produce and meat, bulk items and prepared foods, housewares and wellness products.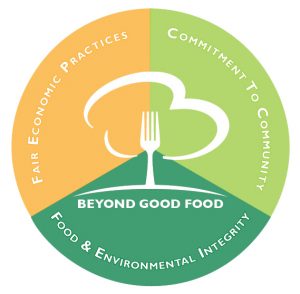 What is a co‐op?
A cooperative is any autonomous association of persons united voluntarily to meet their common economic, social, and cultural needs and aspirations through a jointly‐owned and democratically‐controlled enterprise. Many cooperatives are businesses, as is Bluff Country Co-op, and although natural foods co-ops might be the most familiar example, cooperatives exist across many industries.
All cooperatives share a set of values and principles. The cooperative values include: self‐help, self‐responsibility, democracy, equality, equity, solidarity, honesty, openness, social responsibility, and caring for others. See the full set of cooperative principles here.
Bluff Country Co-op is governed by our Articles of Incorporation, and By-laws.
If you are interested in serving on the Board, submit your letter of interest to the board at: board@bluff.coop.
Please include:  
Why would you lik

e to serve on the Bluff Country Co‐op Board of Directors?

What professional, volunteer and/or community experience and skills do you have that may benefit the Board's and Co‐op's work?

What is your experience working cooperatively?

Any other relevant information about your experience and interest in serving on the Co-op Board of Directors

Please attach a photo
Responses and photos will be posted in the store and those submitted before July 30th will be included in the fall newsletter (in advance of the Annual Owner Meeting).